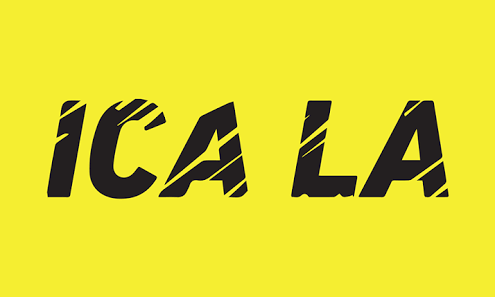 The electric-yellow facade of the soon-to-debut Institute of Contemporary Art, Los Angeles, has brought a bolt of color not to mention some action to an industrial pocket of the downtown Arts District. This afternoon, a crew is digging in the courtyard, filling the air with sand, while museum workers stream in and out of a temporary side entrance.Inside the former warehouse, a scissor lift cuts through the unfinished lobby, sharp with the smell of fresh paint, while workers configure custom furniture and pry open crates of art. For museum Director Elsa Longhauser "It's really a moment."

After a journey of more than two years, the Santa Monica Museum of Art, once in the Bergamot Station arts complex, opened to the public Sept. 9 as ICA LA. Longhauser leads The Times on an early tour of the building, designed by Kulapat Yantrasast of the Culver City firm wHY. The inaugural exhibition features the late Mexican outsider artist Martín Ramírez in the main gallery, an airy space with a double bow truss ceiling; a project room will have a sculptural installation by New York artist Abigail DeVille, and the courtyard will have a three-dimensional painting by L.A. artist Sarah Cain. Opening weekend activities include tours in Spanish and English and a musical performance by the L.A.-based Los Jornaleros del Norte. Given all this activity, ICA LA's signature color, that electric yellow, seems especially fitting. Longhauser says. "This is such a vibrant urban community, and we're part of the streetscape."
The free institution is the newest addition to Los Angeles' rapidly expanding museum landscape. The Broad opened in late 2015 across the street from downtown's Museum of Contemporary Art. The Main Museum, also downtown, debuted quietly in October. The Marciano Art Foundation opened this May in a former Masonic temple on Wilshire Boulevard near Koreatown. And that doesn't include the relatively new Hauser & Wirth gallery, which is museum-like in its size and ambition, or the Hammer Museum, which this year announced its own expansion on the Westside.
The inaugural exhibition spotlighted  the trippy drawings of the late Mexican outsider artist Martín Ramírez, but two other site-specific installations are worth a look. Myths abound about Martín Ramírez, the prolific Mexican immigrant and artist who spent all of his known creative years incarcerated in California asylums. A railroad worker left unemployed and homeless during the Great Depression, he was picked up by police, deposited in a state hospital, and diagnosed a schizophrenic paranoid mute. He could certainly speak just not in English, which means he was never able to officially tell his own story.kRamírez's framed drawings of psychedelic depictions of train cars, tunnels and cowboys on horses rest on the ground, waiting to be hung. It's a respite from the lobby. Longhauser steps into a beam of sunlight under a skylight, surveying the space with glassy eyes, as in disbelief. ICA LA's journey here has been "an intense adventure," she says.
The ICA LA occupies an industrial building, designed by Kulapat Yantrasast of the wHY firm, on the outskirts of the downtown Arts District, close to Hauser & Wirth Los Angeles, the Box, and the galleries along Santa Fe and Anderson Street. "Clearly the epicenter of art and culture has shifted downtown," Longhauser said, "and we love being in this community." Getting there took two years, a relatively rapid move, given how long major institutional changes can take.Last year, ICA LA hired Jamillah James, an assistant curator from the Hammer who had been a curatorial fellow at the Studio Museum in Harlem before that. As of fall 2018, ICA LA will reflect her full curatorial vision. A primary goal, she says in addition to engaging the neighborhood and giving shows to local artists who may have been overlooked by L.A.'s cultural institutions is creating ambitious exhibitions by artists who address today's turbulent political climate.
According to Sarah Cain, her three-dimensional wall painting is a colorful, abstract work on brick and is the one going to greet visitors in the entrance. It features sculptural aspects such as canvases that the artist ripped and painted on as well as sparkly backpacks she hung from its surface the ultimate selfie spot for the arts district according to museum director Elsa Longhauser.
The museum's more intimate project room will feature Abigail DeVille's sculptural installation. It's a tree-like metal armature that mushrooms across the ceiling. The artist hung objects from it that she found around the neighborhood old windows, door frames, fences, car parts, beds and tables. The immersive environment addresses questions of displacement for marginalized people. James, who was an assistant curator at the Hammer Museum in L.A. and a curatorial fellow at the Studio Museum in Harlem before that, curated both installations.

In February, ICA LA will present an exhibition about Swiss curator Harald Szeemann in collaboration with the Getty, which owns Szeemann archives. The show, curated by Glenn Phillips and Philipp Kaiser, will re-create Szeemann Bern, Switzerland, apartment and an exhibition he staged there in the 1970s, "Grandfather: A Pioneer Like Us." The show is about his grandfather, a hairdresser and the inventor of the permanent wave machine. In late May, the museum will present an exhibition about sign painter Norm Laich, "This Brush for Hire," curated by L.A. artists John Baldessari and Meg Cranston, both of whom worked with Laich.
Meg and Baldessari have decided that Norm is an important artist and needs a show, his own show. It was time. He's done work for various artists over the years, he makes them come forward, but it's time for him to show according to them.