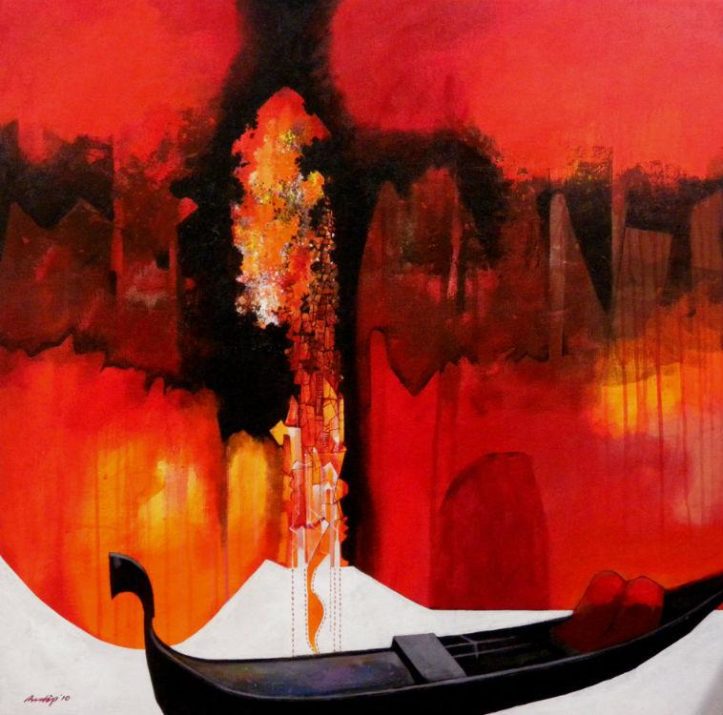 An artist's career isn't success-cemented in one night, with one collector's approval, or with one outstanding show. Artists in terms of success have stupendous careers that build over time, collection upon collection and show up on the show. In looking ahead to 2018, we consulted with renowned professionals and a number of data resources to determine this list of emerging but prominent Indian artists who deserve greater attention and have exceptional potential to reach new heights. Check them out:

Gopal Pardeshi
Gopal Pardeshi, an alumnus of the Abhinav Kala Mahavidyalaya, depicts the experiences of village life, and feature antique lamps, wooden windows or old utensils, with each painting telling a story. The beautiful portrayal of rural India makes these works extraordinary.  
Sarang Singla

Sarang likes to paint in vibrant hues and her works showcase a blend of contemporary art and Indian culture. Sarang's canvas signifies expression of original thoughts and feelings evoked by observation of life around. The use of exquisite texture and brush strokes makes her style unique.
Siddharth S. Shingade

Siddharth loves to create his personal language, populating his art surfaces with tall figures that represent the history and different stories. The somber mood of Siddhartha's masterpieces shows the reflection of the oppression faced by women of Marathwada, his birthplace.
Pradip Sengupta

This young and dynamic visual artist has completed his MFA from Visva Bharati University, Santiniketan. Pradip's paintings uniquely and precisely describe the images of the world as seen by his eyes. The visual language which Pradip express with his art strokes is superiorly imaginative and holds roots in the real world subject.
Varsha Kharatmal

Varsha's ability to script her emotions on canvas through colours and pictures has been appreciated amongst several art critics. She specializes in creating a series of women centric paintings highlighted through unusual compositions and colour combinations. Her extraordinary skill portraying her imagination through a myriad of colours has won her several prestigious recognitions.

Sarang Waghmare
Born in a small village called Beed, Maharashtra, Sarang has secured his Diploma in Fine Arts in Abhinav Kala Mahavidyalaya, Pune. He also received the Art teachers Diploma from Kailas Kala Niketan Art College, Beed in order to teach Arts and completed his Diploma in Art education from Aurangabad, Chitrakala Mahavidyalaya. Awarded with numerous Art-Awards, his beautiful art pieces mostly display Indian culture and the style of representational composition.
Swati Kale

Obsessed with the beauty of a variety of flowers, Swati's brush work displays distinct manifestations of Mother Nature with her eye pleasing flower paint works. With a General Diploma in commercial art from Pune, Swati tries to bring out her memories, dreams and thoughts freely with her canvas. The special knife strokes are her signature.

Mithun Datta

Based out of Kolkata, Mithun primarily paints using acrylic and konti on canvas. He specializes in monochrome and "black & white" paintings that offer viewers an aesthetic sense of the intrinsic expressions of life. The special lines and bold brush strokes of his paintings are inspired by the motion of life.
Aditya Dev

Aditya Dev's artistic capability makes him one of the rarest artists who constantly experiments with his own artistic thoughts and then present them in day-to-day life on canvas. From modern day inspiration to emotions and feelings, every portrait by him is like a non-fiction novel without words. The renowned poet-artist embraces completely distinguished and sensual themes in one canvas.
Yuvraj Patil

This Kolhapur based artist has completed his GD Art Diploma from Dalavi's Art Institute, Diploma in Art Education from Bharati Kala Mahavidyalaya, Pune and Kolhapur, Foundation Diploma and Art Teacher Diploma from Kalaniketan Mahavidyalaya, Kolhapur. Famous for his semi-abstract, abstract, landscapes, figurative and still life paintings, Yuvraj presented his first solo show in the famous Hirji Art Gallery in Mumbai in 2013.
Nilesh Vede

Nilesh Vede, born in 1981 is a young contemporary artist. He did his Diploma in applied art from L S Raheja School. He is also a proud alumni of Sir J J school of Arts, Mumbai from where he has pursued his Art Teaching Diploma. His art captures his socio cultural background with grace and romanticism.
Prabhinder Lall

This mid-age contemporary and visual artist, graphic designer and painter specializes in vast landscape art scenes embedded with architectural arrangements that symbolize urban culture in a melodious aesthetic story. With a Diploma in Applied Art from the Government College of Art, Chandigarh, Prabhinder's artistic imagination is marvelous in every possible way.
C. Bhagyanath

Born in Tellicherry, Kerala, Bhagyanath has received his Bachelor's degree in Fine Arts (painting) from the College of Fine Arts, Triavandrum and Master's degree in Fine Arts and Communication from Sarojini Naidu School of Performing Arts, Hyderabad. Bhagyanath has been awarded with several prestigious art-awards in the last few years.
Dinkar Jadhav
Born in Jadhavwadi, Pune, Dinkar primarily works in impasto which is heavily influenced by JW Turner's landscape paintings. Nature is the source of inspiration for him and the universal play of light and shade is constantly represented in his art compositions. The artist has had several solo exhibitions.

Bhuneshwar Azaad

Bhuneshwar works on urbanization art and utilizes scrap materials such as newspapers, electronic waste, CDs, etc. to create art. He also uses graffiti as an element of his works and is known for his contemporary and mixed media works.
Jiaur Rahman

Born in 1979, Jiaur Rahman has his Bachelor's degree in Visual Arts from the Government College of Art and Craft, Kolkata. His specialty is watercolours and his renderings of nature aim to capture a single moment for eternity. He also likes to capture cityscapes in his works, aiming to portray different mesmerizing urban scenes.

Meenakshi Jha Banerjee

An outstanding contemporary painter by profession, Meenakshi is working in the art field for the past 20 years. Best known for her experimentation with the traditional elements of Mithila art forms, over time Meenakshi has evolved her signature style. She is brilliant at fusing the emotions, feelings and intricacies of Madhubani paintings with her contemporary skills.
Sumantra Mukherjee

Sumantra's upbringing amidst natural surroundings has a great influence on his work. He often portrays ordinary surroundings with different and unique perspectives which are visually attractive and reflects his strong emotion to bring subjects of nature to life.