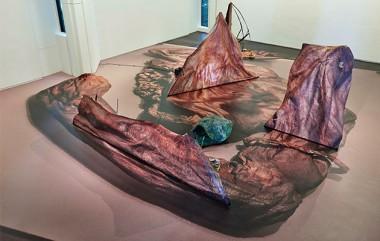 EVA International- Ireland's Biennial is all set for its contemporary art event in 2018. Every two years EVA International creates such event. It is known to accord platform to artists. The organizers are very much excited as this time they will be organizing their 38th edition. In 2018 the program will be curated by Inti Guerrero (Bogotá/Hong Kong).

They recently announced an open call for artists. The open call now has been closed. This brilliant worldwide event was started in 1977. But still today it has experienced the same charm as it experienced 1977. The reason is that it has expanded and grown in years. With diversification, it even succeeded in maintaining its charm. It has done many changes in order to survive and the changes took place successfully. One of the major steps is the open call which is a tool for curatorial research. It is a sort of democratizing the biennial spectrum for art practices across media, generations, and locations. Its first edition took place in 1977 and now the organizers are ready to host their 38th edition.
The information regarding participants of next year's EVA International (EVA International is Ireland's Biennial of Contemporary Art), locations where their work will be shown and other major information will be declared soon. Perhaps on the dates which are closer to April 14, 2018. April 14, 2018, is the decided date for the opening of the biennial. But recently the list of first 21 artists was declared. These 21 artists are the ones who are participating in the grand event. The names of the artists are Peju Alatise (Nigeria, b. 1975), Isabel Nolan (Ireland, b. 1974), Trevor Yeung (Hong Kong, b. 1988), Liu Xiaodong (China, b. 1963), Patricia Belli (Nicaragua, b. 1964), Seán Keating (Ireland, 1889–1977), Alejandro González Iñárritu (Mexico/USA, b. 1963), Malala Andrialavidrazana (Madagascar/France, b. 1971), Sam Keogh (Ireland, b. 1985), Laurent Grasso (France, b. 1972), Sanja Ivekovic (Croatia, b. 1949), Lee Bul (South Korea, b. 1964), John Gerrard (Ireland/Austria, b. 1974), Patrizio di Massimo (Italy/UK, b. 1983), Eileen Gray (Ireland, 1878–1976), Maine Jellet (Ireland, 1897–1944), Jaime Ávila (Colombia, b. 1968), Beto Shwafaty (Brazil, b. 1977), Dan Rees (UK, b. 1982), Sutthirat Supaparinya (Thailand, b. 1973), Juan Pablo Echeverri (Colombia, b. 1978). The EVA International is popularly known as Ireland's contemporary-art biennial. This time the biennial will be curated by Inti Guerrero. This event takes place in every two years. 12-week programme of exhibitions and events works with guest curators. It successfully gets engaged with the people and city of Limerick, Ireland. The invitations are asked via an international open. It is the way through which artists' projects are selected. The invited call for proposals and exhibitions can take place at the location decided by the hosts. It can be both gallery and non-gallery spaces. Selected artists will be notified once the selection process is complete. Artists who have not been selected will also be notified via email.
The theme decided for the 38th edition of EVA is quite common yet interesting. It is not an important but fundamental topic. For EVA 2018, the calls have been invited to "the current state". "The current state" includes the current state of religion or government, art, and history, ideology, your work or your family. In short, the artists have to show the effect of yesterday on today. The open call is received keeping in mind the reflection of the current scenario.
This time the exhibition is supposed to establish a cosmology of exhibitions which are essayistic, retinal and bodily narratives. The theme, though is monolithic the programme will take place beyond this monolithic thematic exhibition. The 38th edition of EVA International is all set to be organized. It will take place from 14 April to 8 July 2018. It will take place at various locations, institutions and public spaces in Limerick City. The specialty is that it will be open to the public. The deadline declared for receipt of proposals is 31 January 2017. The open calls for applications have now been closed.
The names of 21 budding artists have been declared. But along with them the sculptors, the painters, the filmmakers etc are also participating. Filmmaker Alejandro González Iñárritu, painter Laurent Grasso, sculptor Lee Bul are also coming. Since 1977, many artists have shown their presence in EVA International. Many leading artists and curators have shown their interest in this regard. The hard work of people has always brought something new and amazing. It was formerly known as e v+ an Exhibition of Visual Art. But later its name was changed to EVA International. It was founded by Limerick-based artists and academics in January 1977. It succeeded in its very first year and thus it has been continued since then.
This event has experienced presence of many artists and the artists are Salah M. Hassan (2001), María de Corral (1995), Paul M. O'Reilly (1998), Katerina Gregos (2006), Elizabeth Hatz (2010), Zdenka Badovinac (2004), Virginia Pérez Ratton (2003), Klaus Ottmann (2007), Gloria Moure (1993), Rosa Martínez (2000), Dan Cameron (2005), Hou Hanru (2008), Apinan Poshyananda (2002), Jeanne Greenberg Rohatyn (1999), Ida Panicelli (1987), Cóilín Murray (1978), Pierre Restany (1981), Charles Harper, Liesbeth Brandt Corstius (1982), Annie Fletcher (2012), Saskia Bos (1990), Peter Fuller (1984), Lars Nittve (1992), Germano Celant (1991), Nabuo Nakamura (1986), Brian O'Doherty (1980) and many more.