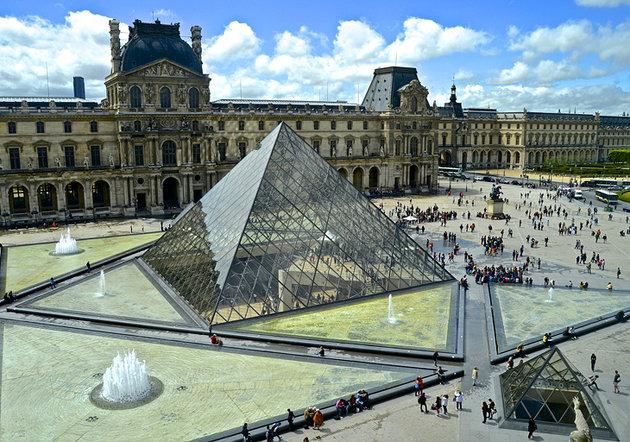 There is a buzz in the art world that the art work, Salvator Mundi might be secured by Louvre museum director, Jean-Luc Martinez by next year for a Vinci themed exhibition.
The art piece is supposed to be put up temporarily though not permanently.
This art piece has made news to be set aside Mona Lisa for the themed exhibition at Louvre.
The above news was confirmed on a Radio interview with RTL, a French radio station with Martinez under the flagship of Ben Sutton of 'Hyperallergic' magazine. And director Martinez has declared it to be a blockbuster exhibition next year.
This exhibition seems be coinciding with the Grand Louvre's 30th anniversary of the museum's renovation and expansion, marking the mega celebration for all art lovers.
Director Martinez quoted that there is a hope to see the 'Salvator Mundi' art piece at Paris. As also the aim is to accumulate maximum Leonardo art pieces for the exhibition.
Currently the museum owns only five out of the extensive 15 paintings in the Leonardo kitty, to which the museum did not comment in reply.
This art piece which is also known as a spooky Jesus art work, was sold for $450 million which broke the auction records at Christie's auction house previously.
Salvator Mundi also raised an international argument about the quality criteria of the largely- restored art work and the blockbuster prices, the world's millionaires are ready to pay up for these at auction houses.
It was also made clear that for making Salvator Mundi a permanent part of The Louvre, Martinez does not intend to shell off the considerate investment required for its acquisition. This also clears off that Martinez has no intension of acquiring the art work as such.
Since the auction of Salvator Mundi, rumors have gotten strong and the buyers of the art piece have been identified as Ken Griffin, the hedge fund manager, then Alice Walton, heiress of Walmart, two unidentified investment funds and Abu Dhabi's Louvre, and a few others.
The Leonardo exhibition is still going to be surely filled with the themed art works despite of the fact whether the museum authorities decide to acquire the Salvator Mundi from its anonymous buyer at its quoted price.
A display of a nude charcoal sketch closely resembling to Leonardo's Mona Lisa also known as Mona Vanna might be put up at the Louvre's, of which the official announcement is still to be made and confirmed by researchers.
Louvre has been found to be most Instagrammed art museum in the world and the amount of visitors who have attended it accumulate to 7.4 million.
The museum may have to face issues with regard to security and crowd control if Louvre becomes successful in putting up the Salvator Mundi at the exhibition.