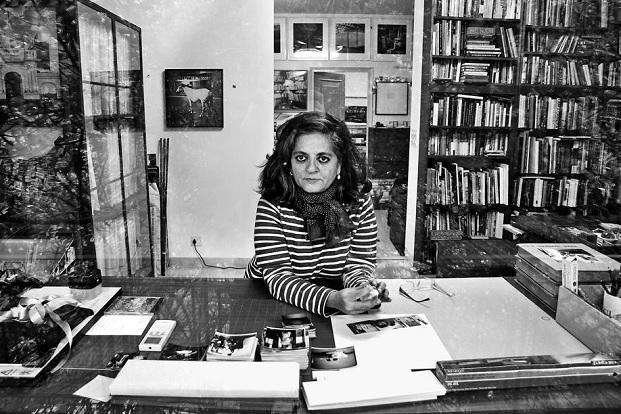 Chances are, if you googled "women artists of India", you would come across a series of lists, with some names being common to every compilation. Interestingly, Unlike the Western Artists of the 17th, 18th and 19th century,  we hardly have any record of women painters in India at olden times. But recently many contemporary artists have budded in India and a few popular ones are:
Bharti Kher
The stick-on, ready-made bindi  a traditional Indian forehead decoration is central to Bharti Kher's practice, and invites ambivalent meanings, oscillating between tradition and modernity. Kher thrives on creating art depicting misinterpretation, misconceptions, conflict, multiplicity, and contradiction, exploring human drama and contemporary life.
The bindi appears in her paintings as well as in her sculptural installations, challenging the role of women in a traditional country, and referencing its traditional spiritual meaning of the 'third eye'. Her work further engages with allegorical tales, fantastical creatures, magical beasts, and mythical monsters, as seen in other animal-based pieces such as Misdemeanours.
Zarina Hashmi

With paper as her primary medium and a minimal vocabulary rich in associations, Zarina Hashmi creates abstract works that resonate with her life experiences of exile and dispossession and the concept of home whether that is personal, geographical, national, spiritual, or familial. Her contemplative, poetic oeuvre includes woodcuts, etchings, drawings, and casts made from paper pulp. Her handcrafted and calligraphic lines constitute a unifying element in her compositions. Handwritten Urdu is overlaid with maps and blueprints of distant homes and places, bearing the shadows of significant moments and impressions of places relevant to her family's life.


Nalini Malani

The concept of the transcended boundary is at the heart of Nalini Malani's practice, which draws from literature, mythology, history, and personal life to create art with relevance across cultures. From drawings to paintings, projected animation, shadow play, video, and film, the artist juxtaposes tradition with modernist elements to address pressing issues pertaining to contemporary society. Malani is exploring the effects of Partition on people's lives and she extends this exploration to the effect of the nuclear testing in Pokhran, Rajasthan.


Rina Banerjee

A love of substance, fabric, and texture, coupled with experience of living in communities of mixed cultural and racial locations provide the basis for Rina Banerjee's poetic multimedia works. She defines her oeuvre as an exploration of specific colonial moments that reinvent place and identity as complex diasporic experiences intertwined and sometimes surreal.
Banerjee creates colourful assemblages of textiles, fashion items, colonial objects, furnishings, taxidermy and organic materials, sourced from New York junk shops and reconfigured into objects imbued with new meaning. Unusual materials include taxidermied alligators, wooden cots, fish bones, ostrich eggs, feathers and antique furnishings.
Dayanita Singh

Creating curious narratives of everyday life through the photographic medium, Dayanita Singh gives visual expression to a landscape that juxtaposes the artist's imagination with the real world. Her black and white photographs are presented in an installation titled Museum, as well as in her favourite medium: the book. Paper holds a particular significance for Singh. The artist portrays everyone, from the upper class to the fringes of society, giving a wide-angle view of contemporary India.


Reena Saini Kallat

Reena Saini Kallat often incorporates more than one medium into a single artwork. Kallat's oeuvre engages with the never-ending cycles of nature and the fragility of the human condition, reflecting the constant shifts between birth, death, and rebirth; building and collapsing, defeat and resurgence. She frequently works with officially recorded or registered names of people, objects or monuments that have been lost or have disappeared without a trace.
A recurrent motif in her practice is the rubber stamp, a symbol of control and of the bureaucratic apparatus – a 'faceless state' which obscures and confirms identities. Her creation comprised one ton of rubber stamps bearing the former names of streets surrounding the museum and highlighting lost histories. Kallat has previously used the motif of the web to engage with issues of migration and those who control it.


Hema Upadhyay
Through photography and sculptural installation, Hema Upadhyay engages with notions of personal identity, belonging, dislocation, nostalgia and gender, reflecting on the contemporary state of Mumbai ,a metropolis with its multiculturalism resulting from migratory movements. A recurrently autobiographical work includes pictures of herself, as if she was looking for her own place within the city, to which she was forced to migrate with her family during Partition.
In her first solo exhibition, Sweet Sweat Memories (2001), she presented works that spoke of feelings of alienation and loss. The series featured miniature photographs of herself pasted onto paintings that depicted aerial and subaltern perspectives of Mumbai as an overwhelming new city.


Sheela Gowda
Incorporating sculpture, installation art, and photography showcasing urban and rural India, Sheela Gowda creates works using everyday materials, including found and recycled objects and materials like cow dung, red kumkum (turmeric), incense, human hair, gold-leaf, ceremonial dyes, and domestic materials such as coconut fibers, needles, threads, and cord.
Gowda's practice heavily relies on its process, which blurs the boundaries between art and craft, and questions the role of female subjectivity in the context of religion, nationalism and violence that constitutes contemporary India. The work referenced India's spice culture and the textile industry traditionally parts of a woman's life experiences that highlight the pain of female domestic life in a patriarchal society.


Pushpamala N
Through photography, performance and video art, Pushpamala N critiques the Indian female socio-cultural stereotype and the reductive classification of ethnographic documentation. Trained as a sculptor, Pushpamala turned to photography and performance art in the 1990s to explore her interest in narratives. Using elements of popular culture and tradition, she examines notions of place, gender and history.
Her landmark exhibition, Excavations, featured assemblages of discarded papers and materials that attempted to look at contemporary history as an archaeological site. Pushpamala 'photo-romances' see her as the subject in various roles, with imagery borrowed from popular culture, mythology, and historical references, humorously exploring the complexities of India's contemporary society and urban life.
From ghost stories to sentimental romances and ethnographic portraits, Pushpamala questions notions of femininity, the nation, the native, wealth versus poverty, and imagined cities.