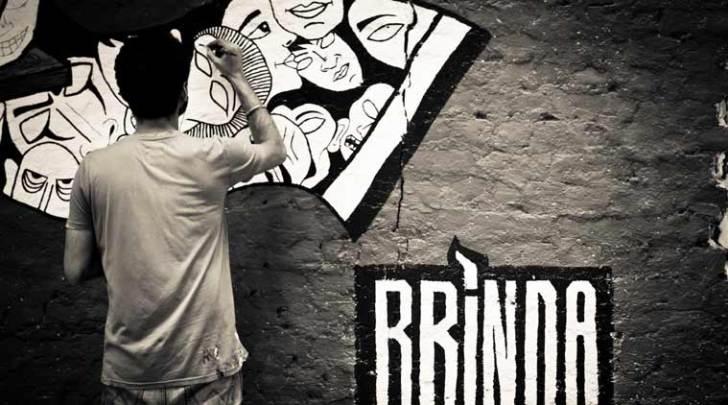 The visual art discourse in India was, till about a decade ago, limited to modern contemporary art showcased in formal exhibitions. However, recently, India has seen a surge in the number of street artists across the nation. Be it universities where students are using street art as a medium of voicing their opinions or organised street art where the government is contacting organisations to beautify various parts of the city.
However, there are also instances where artists have taken it to the walls without any permission from the government and the wall art has been subsequently removed by the authorities. Such work by the artists are often termed as vandalism.

Already, street art festivals have taken place in Delhi, Mumbai, Chennai, Pune, Pondicherry and other cities, and around the country, artists are transforming public spaces using stencils, spray cans and paint. The booming street art scene here is as much about the children and the poor of "the street" as it is about the art.
Street art is not new to India, of course. For centuries, India has had a rich culture of wall paintings of religious and cultural motifs. Even today, there are many indigenous tribes who draw on their house doorways. Then there is product advertising, social messaging and film posters from Bollywood jockeying for wall space.
Sections 425 through 440 of the IPC deals with offences against property. Graffiti, wall art would come under vandalism and despite the law forbidding these, India is witnessing a budding street art revolution. Organizations, artists, groups, festivals that showcase street art are cropping up in a number of cities. Art in India is breaking away from conventional spaces and reaching and affecting the masses. From anonymous underground artists to community-based projects, these art initiatives are breaking new ground in India with their bold styles and ideas.

Ranjit Dahiya
Graphic designer and artist Ranjit Dahiya's Bollywood Art Project pays tribute to Mumbai's long association with Bollywood through murals of classic Hindi films. Their style is influenced by the dying tradition of hand-painted Hindi movie posters. Last year, Dahiya partnered with Delhi artist Yantr to paint India's largest mural, depicting the father of Indian cinema, Dadasaheb Phalke.

Yantr
This street artist's moniker 'yantr' means machine. Accordingly, most of his works such as flying chariots and masked figures are mechanical and larger-than-life. Yantr also dabbles in earth art, transforming vast landscapes into art.


Guesswho
The Kochi-based artist or collective's identity remains mysterious, but his satirical pieces have acquired a popular following. Guesswho's paste-ups are a mash-up of global icons and local culture — think Harry Potter working on a potter's wheel, Mr. Bean in a dhoti, and a sari-clad Mona Lisa. While they originally started to critique the Kochi Biennale, the works poke fun at gender stereotypes and Indian oddities.
Anpu Varkey
Trained as a painter, Anpu Varkey is known for her signature cat-themed murals which have found a place on the walls of cities including Delhi, Pune, Rishikesh and Chennai. In 2014, she collaborated with German graffiti artist Hendrik Beikirch to create the 158-feet-high Mahatma Gandhi mural at the Delhi Police Headquarters.


Harshvardhan Kadam
Artist Harshvardhan Kadam founded the Pune Street Art Project in 2012. Held in collaboration with local and visiting artists, it has helped transform the city's oldest residential locality Kasba Peth into a colourful art hub.


Shilo Shiv Suleman
Bengaluru-based Suleman founded the Fearless Collective in 2012 to raise awareness about gender-based violence using art. Since then, it has travelled to cities such as Ahmedabad, Delhi and Varanasi, working with communities and artists to paint murals inspired by local traditions and culture.

Tyler
Mumbai's anonymous street artist Tyler is known for his witty statements on everything from global politics and consumerism to local civic issues. The stencilled pieces reimagine familiar icons into satirical images.


Baadal Nanjundaswamy
The Bengaluru artist shot to fame in June when he placed a life-sized green crocodile in the middle of the road to draw attention to an unattended pothole. Nanjundaswamy focuses on civic issues through his creative 3D paintings and sculptures. From placing lotuses in a water-logged road to painting portraits of gods to highlight open manholes, his interventions usually get civic problems fixed quickly.
Jheel Goradia
This Mumbai designer began the Breaking the Silence project, using popular Bollywood stereotypes to talk about gender injustice and the depiction of women in Hindi cinema. Each work is digitally reworked, printed and pasted, accompanied by hard-hitting dialogue that turns sexist stereotypes on their head.


Samir Parker
This year, Mumbai artist Samir Parker started the Roof/Tarp/City project to bring art to the city's poorest and most neglected areas. Working with residents, Parker and his team installed colourful tarpaulin, a material commonly used to protect the houses from rain during the monsoon, on the roofs of several city slums. Seen from above, the resulting roofs look like an abstract patchwork of colour blocks.


Harsh Raman
Graphic designer Harsh Raman is behind Delhi-based street art initiatives such as the Brinda Project that highlighted the similarities between India and Brazil. He also started the Wall of Women project, which teams up female artists with women from Delhi's neighbourhoods to paint city walls.


Leena Kejriwal
Photographer and artist Kejriwal's Missing project aims to bring the issue of trafficking of women into India's public spaces by combining art, activism and technology. The crowd-funded public art project places larger-than-life black silhouettes of 'missing' girls on streets and landmarks. People can interact with each piece through a mobile app, which sheds more light on the issue of trafficking of women and girls in India.
Some artworks induce you to look twice, some arouse appreciation for the artists and some have the potential to change the very world we live in and these are just a few of the thousands which have the potential for the same.