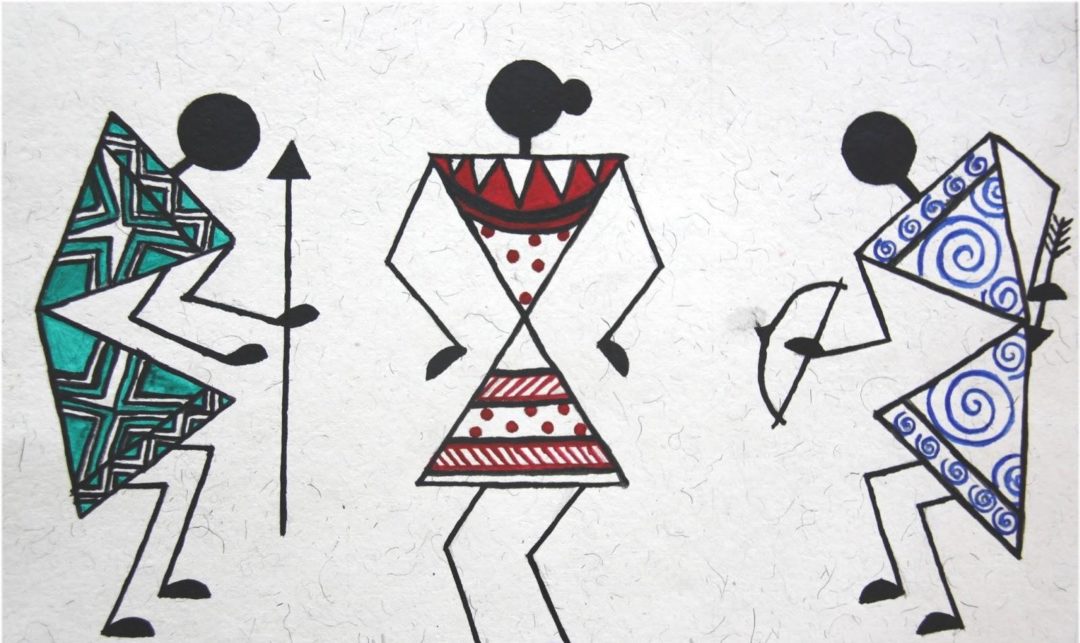 Indian art culture has much diversity. Some of the art forms belong to indigenous tribe or Adivasis. The 'Warlis' art form is one of the living art cultures of India. The tribes who specialize in this art form live in mountainous as well as coastal areas of Maharashtra-Gujarat border. Via this art form, they showcase their customs and traditions. They simply try to bring their own animistic beliefs in front of the world.
They are speakers of unwritten Varli language. And this is their specialty. Warli art is a beautiful folk art of India. It is the result of creations by the tribal women of Maharashtra. This art form appertains to the group of new art cultures. It came in the early seventies for the first time. People named it as "Warli art".  The world knows that India has a rich tradition of folk arts.  Even the tribes compensate a lot in this regard. Warli and Malakar Koli tribes create this amazing art form.
Tribals express their view through paintings. But what makes this art form different is its vivid style. They paint on the walls of their house. Tribal people only strive to express themselves. This art form is made by womenfolk. Many Indian artists were against western culture because of its materialistic nature. But Warli paintings are not made up mythological characters or images of deities. They simply depict social life. Perhaps this is the most important aspect of this painting. It is common for human beings and animals to be found on walls.
Women create the wall paintings in a loose rhythmic pattern. They are scenes from daily life. The sceneries are painted white on mud walls. The paintings are beautifully executed. It takes people to the world of pre-historic cave paintings. Some even paint hunting, dancing, sowing, and harvesting etc. Simply it represents human figures who are engaged in such activities. Actually, the tribals are forest-dwellers. So they relate everything to it. Unfortunately, they are little backward economically. But they do respect their indigenous customs and traditions. And Warli art form is their way of maintaining their culture.
With time this art form is growing popularity early. The commercialization of the Warli painting will be a boon for tribals. In recent years it has uplifted many tribals. Even in future, it will positively affect many. They are getting integrated into the mainstream. It is quite easy as their traditions are unique. The excessive use of geometric designs makes this art form different from others. The picture consists of triangles, circles, squares, dots and crooked lines. The trademark of Warli paintings is the presence of geometric designs. Human figures, animal figures, houses, crops etc are made via these signs. Even the ideas and concepts are repetitive and symbolic in nature.
The day to day life scenes is depicted in a loose rhythmic pattern. Human beings and animals are the centers of attraction. They appear like the historic cave paintings. No doubt they are pretty. It is only painted white on mud walls. This art form is simple comparatively. It is known to be easier than vibrant paintings from Madhubani. Only white color is used on a red earthen background. This is the only color used in creating Warli paintings. The white color is obtained from grounding rice into white powder. Human activities like hunting, dancing, sowing, harvesting, going out etc are the basic themes of the painting.
But changes take place in every art form.  Now Warli paintings are being done on paper as well. They are becoming very popular day by day. They are getting sold all over India and across the world. This is a good sign for them. Even fabrics, cushions wall hangings etc are getting created by this art form. Though the art has commercialized a bit, they look best on the walls only. Now it has got the name of "Indian tribal Art". It has succeeded in making his mark in the world market.
But it has many contradictions.  Some say it originated somewhere in the 18th century. But some people say that it can be traced back to 2500 BC and 3000 BC. No one is sure when this art of painting came into existence. We have nothing than to believe historians. Some say this art was first discovered in the early seventies of the last century. Just because it has traveled across borders,  has now become a famous artwork. It is genuine and nice that it can be found in various home décor products. The respective products have an international appeal and are in high demand.
Like other traditional forms, these paintings don't depict the Hindu Gods and Goddesses. They simply showcase day to day and social life. They are mainly created on mud walls of tribal houses and thus they depict common people only. They have been super creative and imaginative work from the very beginning. The ancient Indian folk art tradition of Warli Tribe has successfully brought the fame to the people. Warli Paintings are famous Indian Paintings. They have made their mark in very less time.
It should be mentioned that it is rare to see a straight line. Only a series of dots and dashes make one line. Many experiments have done and now small paintings are done on cloth and paper also. The world experiences the vast and magical world of the Warlis. Warli paintings on paper have become very popular. And it is the good sign for them. Now the tribes can face new challenges. It is because they will be recognized by the world.