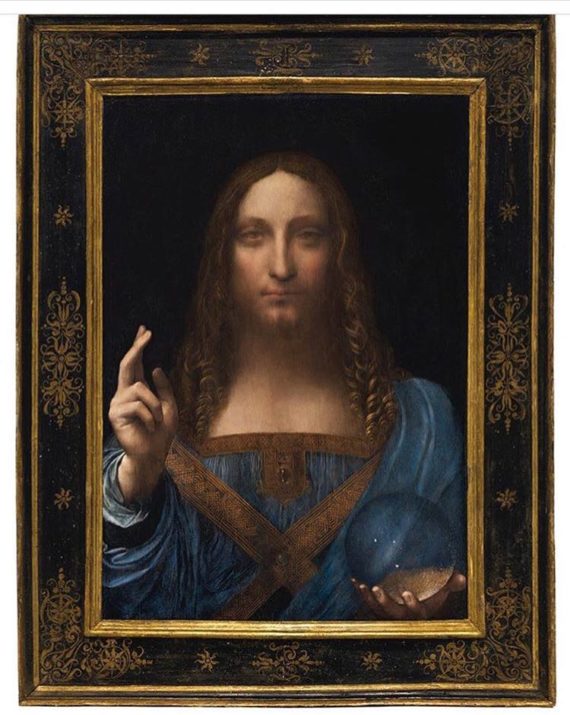 A painting by Italian Renaissance master Leonardo da Vinci that depicts Jesus Christ holding an orb sold for a world record $450.3 million at Christie's auction house in New York Wednesday night. The painting, called "Salvator Mundi," in Italian known as the "Savior of the World," is one of 20 paintings by Leonardo known to exist and the only one in private hands. The buyer who bought it for this immense price was not immediately identified. In New York, where no museum owns a Leonardo da Vinci piece, art lovers lined up outside Christie's Rockefeller Center headquarters on Tuesday to view the "Salvator Mundi." The 26-inch-tall Leonardo painting dates from around 1500 and shows Christ dressed in Renaissance-style robes, his right hand raised in blessing as his left-hand holds a crystal sphere.
The highest price ever paid for a piece of art at auction had been $179.4 million, for Picasso's "Women of Algiers (Version O)" in May 2015, at Christie's in New York. The highest known sale price for any artwork all over the world has been $300 million, for Willem de Kooning's "Interchange," sold privately in September 2015 by the David Geffen Foundation to hedge fund manager Kenneth C. Griffin.This Leonardo da Vinci's masterpiece which sold at £45 has raised to a whopping $450 Million in 59 years. It was sold at £45 in 1958 initially to a British Collector Mr.Cook.  Leonardo da Vinci's masterpiece Salvator Mundi has achieved world record by getting sold at a  $450,312,500, be it at any auction worldwide.
The painting Salvator Mundi was damaged from previous restoration attempts, and its authorship was quite unclear. Cook's descendants sold it at auction in 1958 for £45. Later In 2005, the painting was acquired by a consortium of art dealers that included Robert Simon, a specialist in Old Masters. It had been heavily overpainted so it looked like a copy, and was badly described. After various research it was then restored and authenticated as a painting by Leonardo. It was the  exhibited by London's National Gallery during the Leonardo da Vinci: Painter at the Court of Milan from November 2011 to February 2012. In 2013, the painting was sold to Russian collector Dmitry Rybolovlev for US$127.5 million through the famous Swiss dealer Yves Bouvier.

On 10 October 2017, Christie's Auction House announced that the painting would be sold at auction the following month, on November 15, 2017. It was exhibited as a special display at Christie's locations in New York, Hong Kong, San Francisco, and London prior to the auction.
It was predicted that the "Salvator Mundi" auction would go to a bid of at least $100 million at the opening bid of the auction. The price hit $300 million about halfway through the bidding. When the hammer came down on the final bid, $400 million. The record sale price of $450 million plus the buyer's premium fee paid by the winner to the auction house was finally sold for US$450.3 million.